Current Offers
Civic Sedan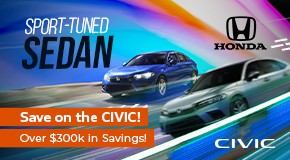 Save with the Civic!
Over $300,000 in SAVINGS!
Manufacturer savings on the Honda Civic is valid for a limited time only and while stocks last. Available for on the ground models only. Cannot be combined with any other offer or promotion. Monthly prices calculated at 90% financing, 8.5% interest with up to 10 years to repay. Offer for free processing fees is valid only through JMMB. Offer is valid until June 30, 2023. Visuals shown are representational. Terms & conditions apply. Expires
07/01/2023
Forbidden turn.
Please rotate your phone.